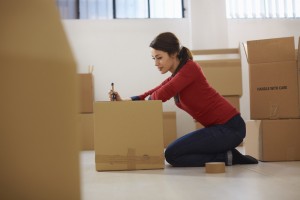 You know that you need to move, and the market is right to sell, but you're not quite ready to pack up everything. After all, you still have to live in your home until it sells. So how do you get ready to sell without entirely disrupting your life? Start by getting organized. Move from room to room in your home and take stock of the items you use regularly and the items you haven't touched in years. In each room, create five piles for sorting. Some organizers advocate putting sell and give in the same pile, or using large containers or boxes instead of piles, but this doesn't work well for large items such as furniture. The five areas should be:
TRASH: These items are broken and not reparable, or used up or no longer useful to anyone. Of these items, take a moment to sort what needs to be recycled or requires special disposal like batteries or electronics.
SELL: These items have value on the market but you no longer use them in your household. Items to consider for this category are collectables, large or small appliances, electronics, designer clothing, shoes and handbags, furniture, and expensive games and toys.
GIVE: These items are gently used and have more value as a tax write-off if given to charity than if sold. This includes most clothing and many household goods.
STORE: Items for storage include seasonal clothing, holiday decorations, important papers and other documents, family keepsakes and heirlooms that you do not use or display, extra furniture and other items that you plan to use in the future.
KEEP: In this pile place all the items and clothing that you use currently, and that you will need to keep your household operating smoothly while your home is on the market.
Take care of the TRASH first. Get it out of your house and arrange to have special disposal items picked up. Deliver dead electronics to a charity or business that disposes of them or call your local waste management provider for options. Next, collect all of the GIVE items; divide them up by charity, hand-me-downs to family and friends, etc. Call friends, family and charities to schedule a pickup, or make plans to deliver these to their new owners all in one day. Now, you have three groups left. Consider the SELL items and divide them into categories such as collectables, electronics, designer goods, furniture and the like. Take pictures of each item. If you have the time or inclination, you can sell these yourself on Internet listing sites such as eBay, Craigs List or Tradesy or you can find a service to do it for you. So, what you have left to organize are the items you need to STORE for future use, and the things you use regularly. You may already have a storage unit, or a large attic, but to make things easier for your upcoming move, consider using portable storage. Made popular by PODS and Got Junk, now dozens of companies offer portable storage solutions. Ideally, the company delivers a portable storage container to your doorstep for easy loading. Once you've filled it with the items you need to store, the company removes the container and stores it off-site for a monthly fee. When you are ready to move, simply have the container returned to your doorstep, load your remaining items and have it delivered to your new home. Lastly, take a couple of days to organize your remaining items from the KEEP pile. When your professional real estate agent asks to show your home, getting it ready will be a snap! So, call your real estate agent today to get things rolling.