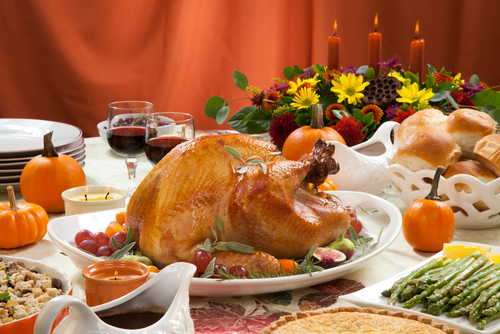 Turkey. Dressing. Sweet potato casserole. Pumpkin pie with fresh whipped cream.
Yum!
You anticipate the traditional savory Thankgiving menu all year long.
But, this year, your home is on the market. As a very motived seller, you may be planning an open house over the Thanksgiving holiday.
If so, kudos to you … especially if you have family visiting from out of town.
Here are the things you need to be aware of to put your home in the absolute best light for visitors:
Don't plan the open house for Thanksgiving Day
This probably goes without saying, but most people have plans on the day and it's doubtful they'll slip away from the table to come visit your home. Of course, even though we really, really, really want to sell your home, we probably won't host your open house on Thanksgiving either. On the other hand, if a neighbor has guests and they want to take a look at your home ... we'll leave that one up to you, but they'll get a better view of your home if they come on a different day.
Expect series buyers
If a buyer is willing to give up Black Friday, Small Business Saturday, or their Sunday (being the last day of the long weekend) to visit your open house, they are probably serious about looking at your home. So, while you may have less traffic, visitors have taken the time out of their holiday to take a look at your home.
Go easy on decorations
Lots of folks spend the Thanksgiving holiday pulling out the Christmas decorations, setting up the tree, hanging lights and generally getting their homes ready for the December holidays. If you're planning to have an open house, consider delaying your Christmas or other holiday decorating until after the open house. While simple, tasteful seasonal decoration may be appropriate and festive, decking the halls might overwhelm buyers. They need to see your home in as natural a state as possible so that they can make an informed decision.
Beware of lingering odors
A full day of roasting and baking is fabulous on the big day … everyone wants to smell freshly prepared delights. But those fragrant aromas can become stuffy, distasteful, off-putting odors than can turn off buyers. Take the time to thoroughly air out your home. Clean up oven spills and hide away leftovers. Spray an odor suppressor around your home too, just to be on the safe side.
Find a place to be
While your home is open, make yourself scarce. If you have houseguests or visiting family, plan a place to go. Serious buyers need the opportunity to peek into cupboards, and closets, poke around corners and cubbyholes and most of all, ask probing questions.
Only your real estate professional can advise you about having an open house over the Thanksgiving weekend. Ask us!
Compliments of Virtual Results