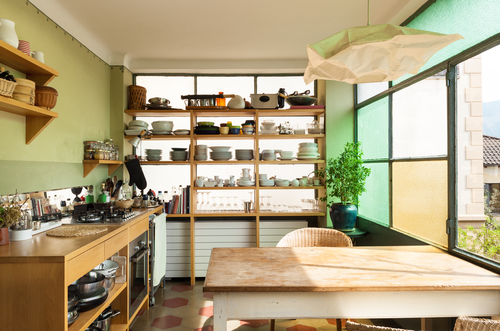 One of the first places homebuyers want to make changes is to an outdated kitchen. Visions of granite countertops, new cabinetry and shiny appliances grace the pages of architectural and remodeling magazines and websites and get our creative juices running … only to come to a screeching halt when we starting to price those new cabinets, countertops and appliances.
There are some things you can do, however, that cost just the price of a quality can of paint (and some wood filler). One of these is open shelving.
You mean … taking the doors off and exposing my messy cupboards?
Well … sort of. First of all, you'll need to consider who uses your kitchen. If you have small children or grandchildren that visit frequently, you won't want to remove all the lower doors. After all, you need to keep cleaners and other potential dangers locked away out of sight. You also might think twice about this if you're in a very earthquake prone area, but, historically, many homes utilized open shelving for dishes and glassware, dry goods or canned goods and to display decorative items.
In fact, removing old doors and painting the open shelving can give your kitchen an immediate upgrade and added personality to boot. Other ideas include backing the cabinets with a bright wallpaper or painting them a deep contrasting color to give your kitchen character and personality. You can also add molding and trim to make the open cabinets appear original or intentional.
Be sure to use a quality wood fill to fill in the holes left by removing the door hinges and follow manufacturer guidelines when painting previously stained wood or fiberboard products.
If your cabinets are in rough shape, or they don't lend themselves to the sizes you need to store your items, consider removing them and replacing them with floating shelves. You'll achieve a sleek, modern look to brighten a dark space and give you the sizes of shelves that you need.
Here are some best practices for open shelving and attaining the look you want:
Dishes: Remember that anything stored on open shelving is exposed to gathering dusts, so consider them for dishes and glass wear that you use frequently, or that you use infrequently but won't mind giving them a quick rinse before using (large serving bowls, soup tureens and platters, fancy glass wear you only use occasionally, or pretty vases).
Cookbooks: Open shelves are perfect for cookbooks and remind you to try new recipes periodically.
Wine racks: Turning open shelving into a wine rack gives you a place to display your favorite vintages.
If you're not sure about having open shelving, start slowly by just removing the upper doors and living with that for a few weeks, or just have one or two open cabinets. If you like it, you can move forward, but if you don't, you can just put those doors back on and start saving
Compliments of Virtual Results