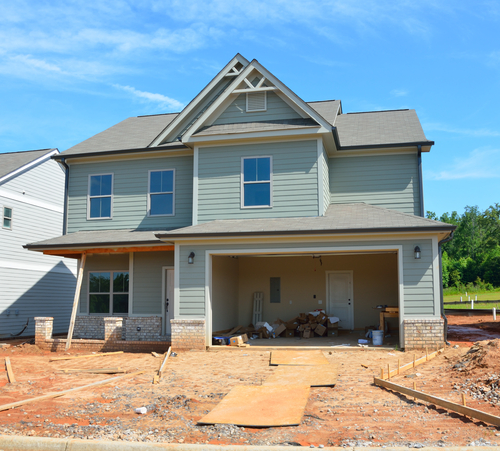 Some homebuyers want nothing but a brand-new home with pristine appliances, sparkling bathtubs and stickers still on the windows. Others look for established homes in neighborhoods with mature landscaping, developed infrastructure and character. Both options carry advantages and disadvantages, so if you're ambivalent about which way to go, take a moment to determine your actual preferences.
Advantages of new:
A brand new home seems like the perfect option for people that know what they want. After all, you get to pick out the cabinetry, flooring and colors, decide on options and upgrades, and even get to pick out light fixtures and appliances. When the idea of living in a home with new carpet and using a bathroom no one else has used gives you a sense of well-being, you may have a deep "new home" preference.
New homes usually come with warranties from the builder and in a slower real estate market, builders offer buyers incentives that may tip the scale. Some options builders offer are upgraded kitchens with granite counters and quieter appliances, or finished basements. Some builders even throw in upgrades that appeal to lifestyle like athletic facility memberships and country club dues, while others might offer to help with closing costs and loan fees.
Disadvantages of new:
With all the amenities of a new home, what's not to love?
Depending on the market variables, new homebuyers may pay more overall. Optional features and upgrades may not be covered as incentives, and since new homes often come with unfinished landscaping, your costs to finish your home are higher than walking into an established home with finished landscaping. If you're planning to move within just a few years and you've bought at the beginning of a development, you'll be competing with the new, unlived-in homes when you sell.
Advantages of pre-owned:
The primary advantage of purchasing a pre-owned home is the established neighborhood, landscaping and known condition. Buying a live-in home means the home is closer to "move-in ready" when you need to move in. Schools, parks and other nearby amenities are "known" and most likely rated so you have a better idea of the neighborhood and community you're becoming a part of.
Disadvantages of pre-owned:
In addition to its "lived-in" status, existing homes may require major maintenance outlays such as the need for a new roof or upgraded heating and air-conditioning system. In fact, depending on the age of the home, appliances may need replacing and the home could have hidden problems like leaky pipes, mold or termites. Before purchasing a pre-owned home, require a home inspection to uncover concerns that need addressing. If you've found the perfect pre-owned home but are nervous about potential problems, ask the seller to provide a home warranty to cover problems in the first years of ownership.
Whether you're determined to buy new or looking for a pre-owned, your real estate professional can steer you toward the best information to make a decision.
Compliments of Virtual Results