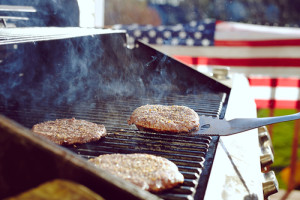 Celebrate your new home with a backyard barbecue!
Nothing speaks independence like owning your own home. If you've rented for most of your adult life, the freedom to paint walls, barbecue on the patio or hang party lights in trees is a special feeling. As July 4 rolls around, here are some ideas to celebrate you new home:
BYOM cookout
If you've just bought your home, you may be a little cash poor. That doesn't mean you can't celebrate with your friends and family. Just invite all guests to a potluck and have them bring their own meat (BYOM) to barbecue and a side dish or dessert to share. Everyone loves to share a favorite recipe and no one will mind helping foot the bill. Just make sure you have hot coals or a big enough gas grill for everyone to cook on.
Plan a few extras that won't break the bank like watermelon wedges and iced drinks.
Decorate the yard
Get your kids in on the action too! Let them decorate with hanging lanterns, flags or pendants or red, white and blue streamers. Create table centerpieces from citronella candles (to keep those pesky mosquitos away), small buckets with flowers or patriotic wreaths, hang bunting swags on the fence or porch rails
If you haven't done your landscaping yet, choose red, white and blue flowers to put in pots, hanging baskets or your flowerbeds for the big day. Add garden décor such as pinwheels and flags, and stars and stripes of any sort.
If your area allows fireworks, plan sparklers for the kids (under supervision, or course) and fireworks for the whole family.
Most of all, celebrate your freedom
Owning your own home is special and it's part of the American Dream, so celebrate that you've stepped into what President Obama called "the most tangible cornerstone that lies at the heart of the American Dream, at the heart of middle-class life."
Compliments of Virtual Results